Musée Yves Saint Laurent Paris
1 May 2019
---
A Homage to the Creator of the Modern Woman's Wardrobe
In his lifetime, Yves Saint Laurent revolutionised the way women dressed; creating the trench coat, normalising the wearing of trousers, and empowering women with the annihilation of gender-specific designs. Now one of the world's foremost fashion designers is remembered in the historic couture house of 5 Avenue Marceau – the atelier where Saint Laurent's strokes of genius were fashioned for the best part of forty years.
The Iconic Collections of Yves Saint Laurent
With his claim "fashion dies, but style remains" Yves Saint Laurent predicted that his creations would stand the fashion world's temperamental test of time. A theory put to the test when 5,000 of the designers' oeuvre from across 81 collections were put on display at the recently opened Musée Yves Saint Laurent.
Of all the assemblages on display, among the most iconic is Saint Laurent's seminal Le Smoking (1966) – his series of sophisticated suits that were tailored for women. Popularised by powerful ladies like Nan Kempner, Betty Catroux and Bianca Jagger; Le Smoking is still an empowering essential for any woman's wardrobe 50 years on – as showcased by Susan Sarandon's sporting of a YSL tuxedo at the 2016 Cannes Film Festival.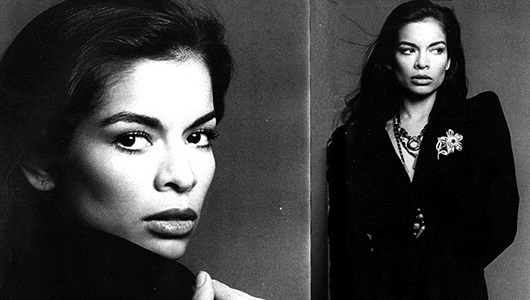 Another of Saint Laurent's irrefutable influences over fashion was his merging of art and clothing; taking inspiration from the likes of Van Gogh and Georges Braque and projecting them onto the catwalk. However, the most enduring of Saint Laurent's artist inspired collaborations is his Mondrian Collection from 1965. The series of six cocktail dresses (an obvious homage to Piet Mondrian) underlined the modernist spirit of an entire generation with their defined black lines and blocks of primary colour; the most quintessential of which will be displayed in Paris.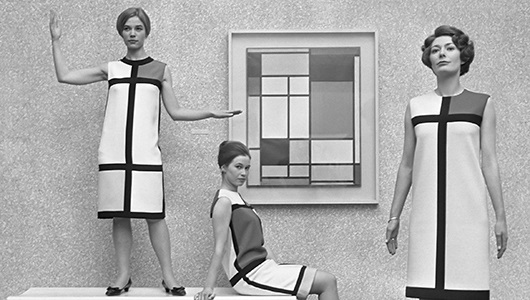 Beyond the rich realm of haute couture; the iconic interlaced logo of Yves Saint Laurent YSL would become a household name through the designer's dedication to prêt-à-porter – himself credited as the first French couturier to establish a full ready-to-wear range. While these collections are certainly less prestigious – their importance is of no less significance; as Laurent's partner, and exhibition co-creator, Pierre Bergé explained when he said "you only have to look in the street, women don't know it but they all have something from Saint Laurent".
In an attempt to increase visitors' interactivity with designs; mannequins are also displayed on podiums as opposed to glass cases – allowing an unobscured look at the intricacies of Saint Laurent's creations. A surplus of 15,000 sketches, photographs, prototypes and accessories is presented alongside exhibits; providing backstories and insights into how projects were fashioned – from initial ideas into stunning samples of haute couture.

Musée Yves Saint Laurent Paris
Musée Yves Saint Laurent Paris is situated on the site of the former YSL Foundation – the historic building where countless couture designs were conceived, crafted, and stowed away in obscurity. Until now.
More than a mere musée; the fabled atelier of 5 Avenue Marceau has been recreated down to the last thimble as it was when Yves Saint Laurent sketched, toiled, fitted and painstakingly refitted his designs. As a result, the iconic creations will be presented in the very place where they originated; while the inspirations for Yves Saint Laurent will be visible between the very walls where his sketches were gradually nurtured into garments.
Tasked with the challenge of restoring Saint Laurent's salon, was long-term affiliate of the foundation Nathalie Crinière; who in recent years has masterminded several exhibitions at the prestigious Pompidou. Crinière will also be accompanied by Jacques Grange – the interior designer responsible for the outlandish décor of Saint Laurent's nineteenth-century Neo-Gothic mansion and his Riyadh styled villa in Marrakech.
Interestingly, Saint Laurent's love of Marrakech – where he was "seduced by this oasis where colours used by Matisse were mixed with those of nature" – has also encouraged the creation of a sister musée in Morocco. Like its Parisian counterpart, the museum will explore the designs of Saint Laurent; with an inherent focus on creations inspired by the vivid environs of Marrakech. The neighbouring Jardin Majorelle was also the site where Saint Laurent requested his ashes be scattered. 
The Legacy of Saint Laurent
From the young child who used to advise the chic women of his family on how to dress, to the man who liberated the women's wardrobe; Yves Saint Laurent's influence over the fashion world is unparalleled.
The fact that aged just 21 he was at the head of a £20million fashion empire after being named Christian Dior's natural successor speaks volumes of his talent. And even as others attempted to nullify his creativity, he was undeterred; bouncing back with a fashion house of his own, which would grow to be among the most prestigious in the world.
Experience the YSL Museum, located just 500 metres from the Hotel Tremoille on Avenue Marceau.
'Bianca YSL Le Smoking' © www.tiinathestore.com | CC License 
'Mondriaan Yves St Laurent (1966)' by Eric Koch / Anefo via Wikimedia Commons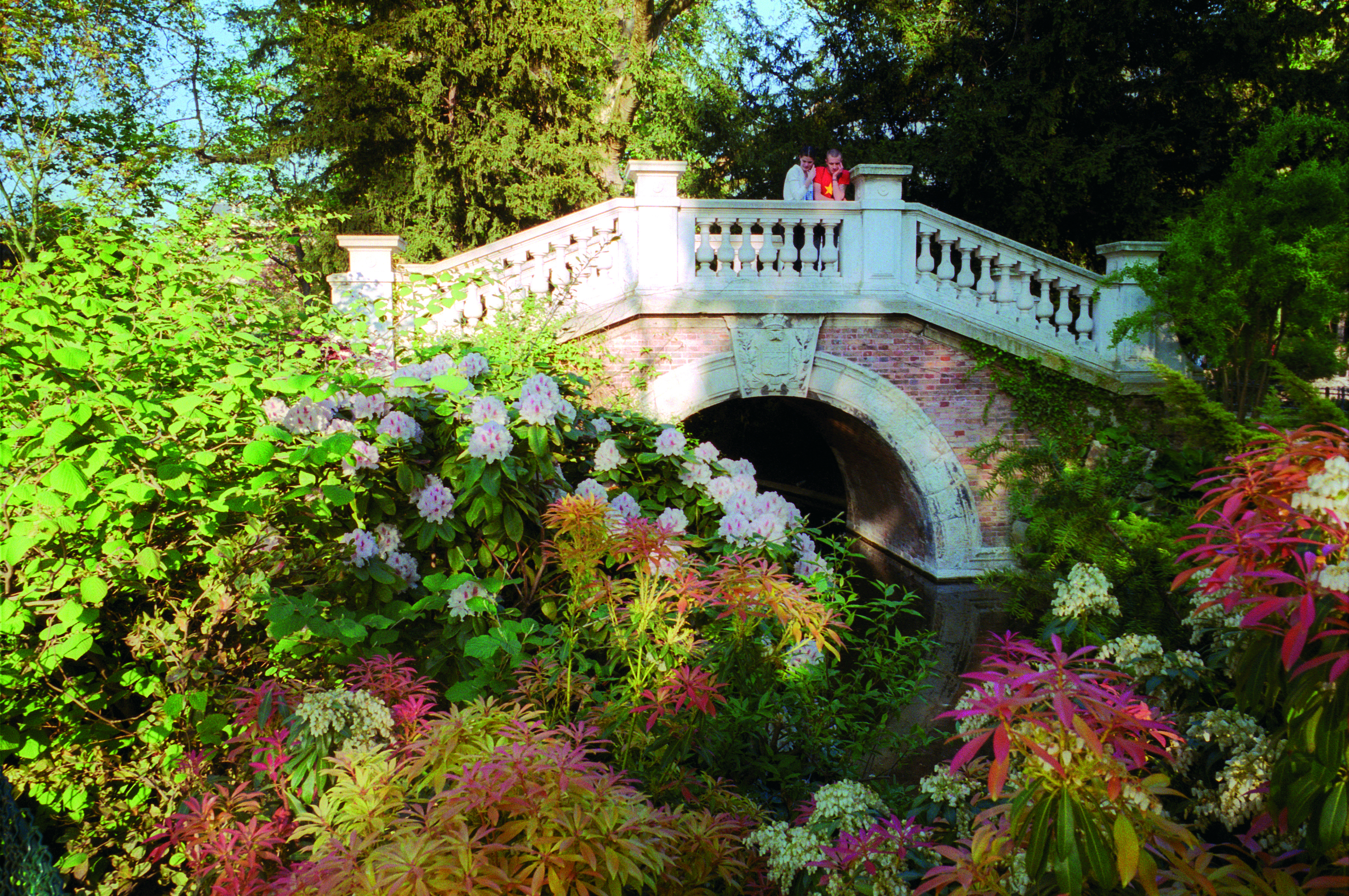 Parks and Woodlands in Paris: Get Back to Nature
Although known as a busy metropolis, Paris has plenty of woodland, green spaces and parkland to offer peaceful respite for visitors. Even the beautiful Haussmann buildings and lively avenues can get a bit overwhelming sometimes, so take some time out in the tranquil public gardens to rest, read a book or plan your next adventure.
Click here for more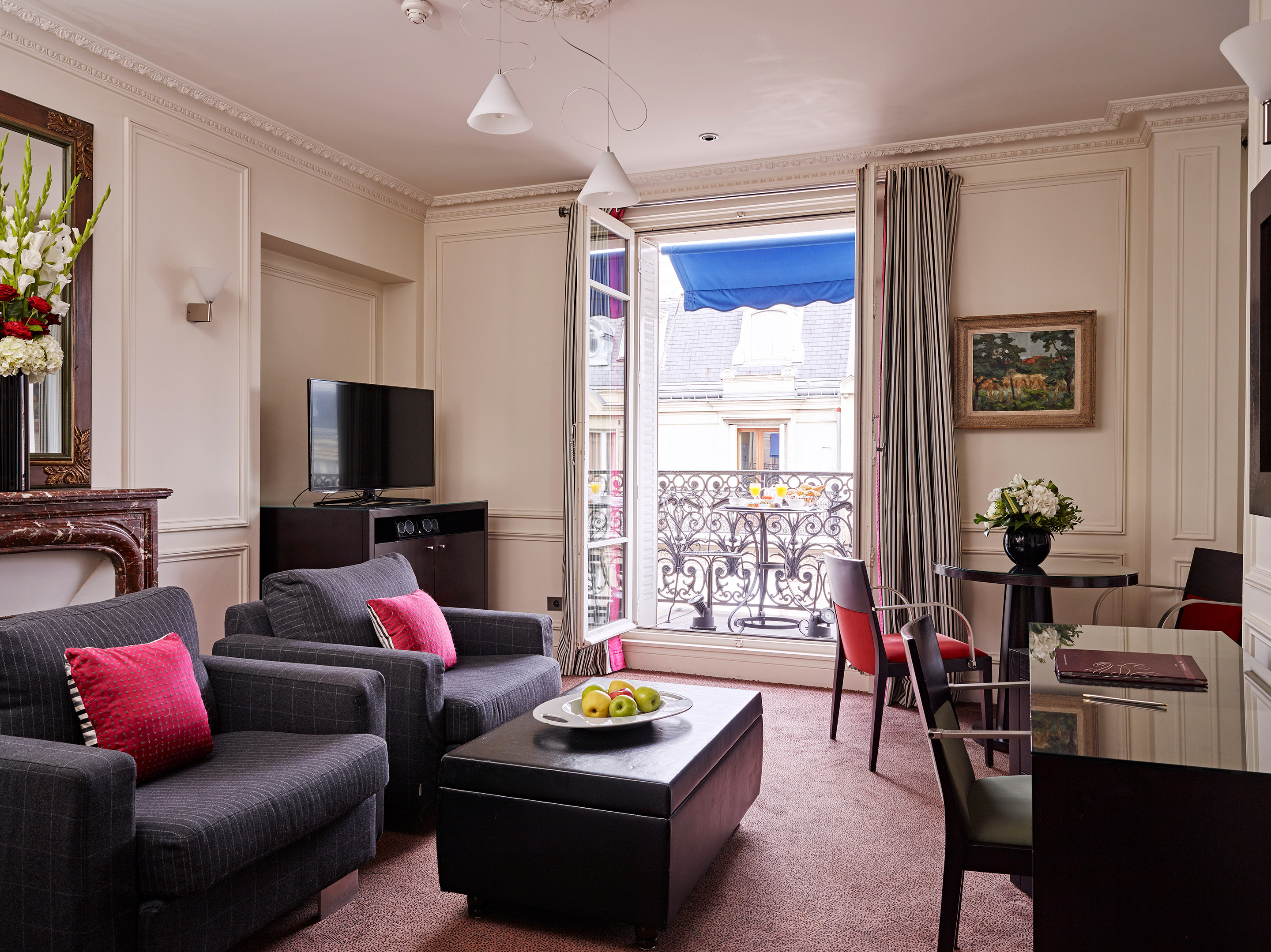 Five-Star Family Breaks in Paris
Join us for a five-star family break at La Trémoille, and relish our convenient location near leading Paris attractions, coupled with luxury family accommodation and exceptional evenings of fine-dining at our Le Louis² restaurant. Book your holiday today and see what all the fuss is about.
Click here for more